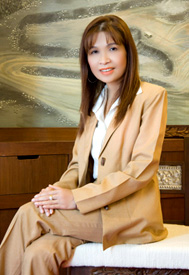 Nucharee S. Brown
Position
Managing Director
Company
LotusHall Mining Heavy Engineering Construction Co., Ltd.
Location
Headquaters, Lampang, Thailand
Special Features
Alternative Dispute Resolution for Lampang Court
Nationality
Thai
Licences
Class A Driverís Licence, Thailand
Class A Driverís Licence, International
Class A Driverís Licence, Laos
Membership
APEC Member
Business and Professional Womenís Association of Thailand - Chaingmai
The Lampang Chamber of Commerce
Thailands - Laos Business Council ( TLBC )
Lampang Institute for Skill Development Department of Labour, Lampang, Thailand
Department of Labour Protection and Welfare, Lampang, Thailand
Import & Export Owner to the Customs Department, Bangkok, Thailand
Mae Moh Golf Club
Military Golf Club
Producer of Jeejai Kai Ruck Program
FM 95.25 Mz. Easy Radio.

Sport
Golf, Tennis, Swimming, Jogging

Present Address
725 Superhightway Road Amphur Muang,
Lampang, Thailand 52000
| | |
| --- | --- |
| Telephone: | (+66) 054 321511-3 |
| Fax: | (+66) 054 321514 |
Qualifications
MBA, NIDA (The National Institute of
Development Administration) Bangkok, Thailand
B.A. Faculty of Business Administration,
Rajabhat University, Lampang, Thailand
B.A. Faculty of Law, (70% complete), Thamasart University, Lampang, Thailand
Computer System Training in Melbourne,
Australia
Business Administration Program Training in
Sydney Australia
YWCA Secretarial School, Bangkok, Thailand
Allian Frances, Bangkok, Thailand
AUA Language Centre, Bangkok, Thailand
International School, Vientiane, Laos
Experience
2004 to Present
Managing Director LotusHall Mining Heavy Engineering Construction Co., Ltd.


1996 to 2004
Assistant Managing Director LotusHall Mining Heavy Engineering Construction Co., Ltd.


1996 to 2004
Owner Top 10 Convenience Store & Restaurant, Lampang, Thailand


1998 to 2002
Secretary to the Australian Honorary Consular, Australian Consulate Chiangmai, Thailand


1984 to 1996
Project Administration Officer Thailand-
Australia Lignite Mines Development Project (AIDAB) Mae Moh Lignite Mine, Lampang, Thailand


1981 to 1984
Executive Secretary to the Manager Mae Moh Power Plant Project, Marubeni Corporation Co., Ltd., Lampang, Thailand


1978 to 1981
Secretary to the Project Field Director Lampang Health Development Project, Lampang, Thailand


1976 to 1978
Secretary to Australian Project Manager Thai Ė Australian Road Construction and Training Project (SMEC), Lampang, Thailand


1974 to 1975
Secretary to US Resources Management Advisor, Bureau of the Budget, Office of the Prime Minister, Royal Thai Government, Bangkok, Thailand